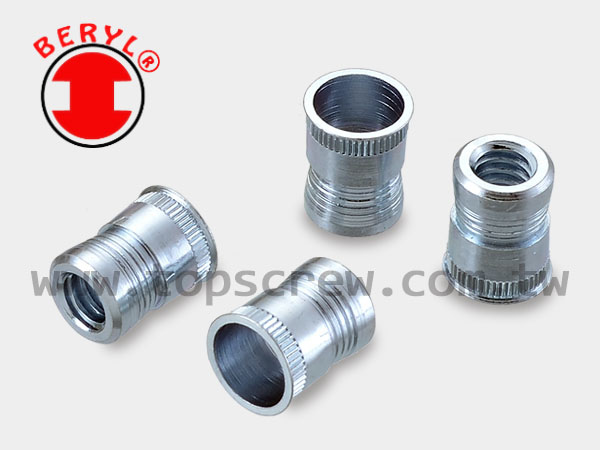 ST series threaded insert is different from our standard type of blind rivet nut. The overall length is shorter than standard type which it allows to be used in small & narrow space.
Although it is short type but it can be installed into most any material with thickness over 0.03" (0.76mm).
The head of insert can press tightly against the surface of application after riveting.
It is commonly to be used in any industry including automobile

UNFIED (INCH) AND METERIC THREAD SIZE
THREAD SIZE

PART NO.

HD

±0.005

L

±0.015

D

MAX

IL

MAX

LB

±0.015

ILB

MAX

IATD

MAX

HOLE

DEPTHE MIN

UNC 4-40

CATI440

.211

.370

.1875

.205

.660

.495

.395

.400

UNC 6-32

CATI630

.240

.370

.2185

.205

.675

.505

.410

.400

UNC 8-32

CATI832

.269

.370

.2495

.205

.675

.505

.410

.400

UNC 10-24

CATI1024

.306

.370

.2805

.205

.685

.520

.385

.400

UNC 10-32

CATI1032

.306

.370

.2805

.205

.685

.520

.385

.400

UNC 1/4-20

CATI 420

.400

.515

.3745

.275

1.005

.760

.615

.540

UNC 5/16-18

CATI 520

.528

.615

.4995

.325

1.065

.770

.630

.640

UNC 3/8-16

CATI 616

.588

.745

.5615

.390

1.450

1.095

.890

.770

UNC 1/2-13

CATI 1213

.800

.935

.7485

.485

NA

NA

NA

.960
THREAD SIZE

PART NO.

HD

±0.005

L

±0.015

D

MAX

IL

MAX

LB

±0.015

ILB

MAX

IATD

MAX

HOLE

DEPTHE MIN

ISO M3X05

CATM 350

5.36

9.40

4.76

5.21

16.77

12.57

10.03

10.16

ISO M4X0.7

CATM 470

6.83

9.40

6.34

5.21

17.15

12.83

10.41

10.16

ISO M5X0.8

CATM 580

7.77

9.40

7.12

5.21

17.40

13.21

9.78

10.16

ISO M6X1.0

CATM 610

10.16

13.08

9.51

6.99

25.53

19.30

15.62

13.72

ISO M8X1.25

CATM 8125

13.41

15.62

12.69

8.26

27.05

19.56

16.00

16.26

ISO M10X1.5

CATM 1015

14.94

18.92

14.26

9.91

36.83

27.81

22.61

19.56

ISO M12X1.75

CATM 12175

20.32

23.75

19.01

12.32

NA

NA

NA

24.38
Hole size/material thickness chart
THREAD SIZE

.303-.090MAT.

THICKNESS

.091-.124MAT.

THICKNESS

.125-.186MAT.

THICKNESS

.187-OVER MAT.

THICKNESS

DRILL SIZE

DECIMAL

DRILL SIZE

DECIMAL

DRILL SIZE

DECIMAL

DRILL SIZE

DECIMAL

UNC 4-40

3/16

.1875

#10

.1935

#10

.1935

#9

.1960

UNC 6-32

7/32

.2188

#2

.2210

#1

.2280

#1

.2280

UNC 8-32

1/4

.2500

"F"

.2570

17/64

.2656

17/64

.2656

UNC 10-24

9/32

.2812

"L"

.2900

"L"

.2900

19/64

.2969

UNC 10-32

9/32

.2812

"L"

.2900

"L"

.2900

19/64

.2969

UNC 1/4-20

0.375

.3750

0.375

.3750

"W"

.3860

25/64

.3906

UNC 5/16-18

0.5

.5000

0.5

.5000

33/64

.5156

33/64

.5156

UNC 3/8-16

0.5625

.5625

0.5625

.5625

37/64

.5781

37/64

.5781

UNC 1/2-13

0.75

.7500

0.765625

.7656

25/32

.7810

51/64

.7970
THREAD SIZE

.303-.090MAT.

THICKNESS

.091-.124MAT.

THICKNESS

.125-.186MAT.

THICKNESS

.187-OVER MAT.

THICKNESS

DRILL SIZE

DECIMAL

DRILL SIZE

DECIMAL

DRILL SIZE

DECIMAL

DRILL SIZE

DECIMAL

ISO M3X0.5

3/16

.1875

#10

.1935

#10

.1935

#9

.1960

ISO M4X0.7

7/32

.2188

#2

.2210

#1

.2280

#1

.2280

ISO M5X0.8

1/4

.2500

"F"

.2570

17/64

.2656

17/64

.2656

ISO M6X1.0

9/32

.2812

"L"

.2900

"L"

.2900

19/64

.2969

ISO M8X1.25

9/32

.2812

"L"

.2900

"L"

.2900

19/64

.2969

ISO M10X1.5

0.375

.3750

0.375

.3750

"W"

.3860

25/64

.3906

ISO M12X1.25

0.5

.5000

0.5

.5000

33/64

.5156

33/64

.5156
http://www.topscrew.com.tw/
TOP SCREW METAL CORP.
78, LANE 415, TAY HO RD., SEC.2, KU YI LI, CHANG HWA CITY, TAIWAN, R.O.C.
TEL:+886-4-7237159 FAX:+886-4-7246640